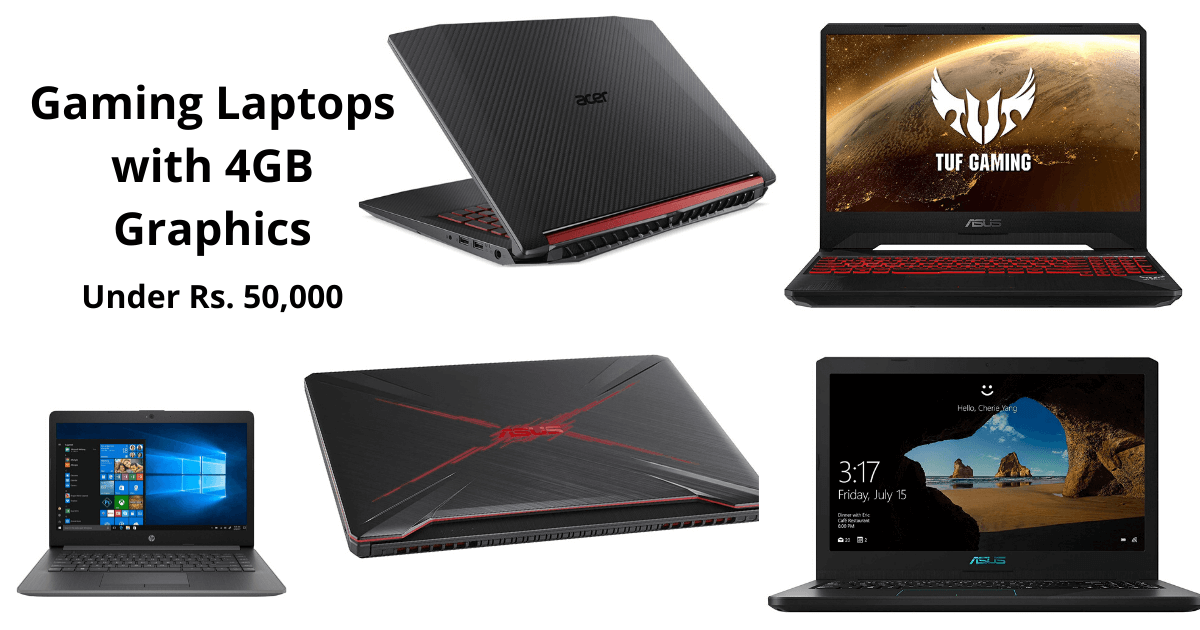 Last Updated on August 28, 2022 by Ram Thakur
If you are a gaming geek, you must always be looking out for new and better gaming laptops all the time. We always try to bring the best of the gadgets to you.
Here's a list of top 5 best gaming laptops under Rs 50,000 with 4GB graphics card that worth buying in 2020:
1. ASUS TUF FX505DY-BQ024T Gaming Laptop with 4GB Radeon RX 560X Graphics
Asus TUF FX505DY-BQ024T is a gaming laptop that is loaded with AMD hardware. Also, it features Ryzen 5 3550H quad-core processor, the brand new processor from AMD along with Radeon RX 560X 4GB graphics card. Asus TUF FX505DY-BQ024T is a tempting alternative to those who are not a big fan of Nvidia and Intel that dominates the gaming market.
Priced under Rs. 50,000 approximately, the ASUS TUF gaming laptop gives you the refresh rate of 120Hz, 512GB NVMe SSD, full HD display of 15.6 inches, and Ryzen 5 3550H processor from AMD.
Pros:
It is an affordable buy.
This laptop has a robust built.
It comes with thin screen bezels.
Loaded with the latest AMD processors.
A good option for those who play games that aren't demanding on hardware.
Cons:
However, it has poor battery life.
Also, it makes noise.
2. Acer Nitro 5 AN515-52 Gaming Laptop with 4GB NVIDIA GeForce GTX 1050 Ti graphics
Powered by 8th gen Intel Core i5-8300H processor, Acer Nitro 5 AN515-52 gaming laptop comes with 1 TB HDD storage and 8GB RAM. It is priced under Rs. 50,000 and it is light-weight and provides excellent gaming performance.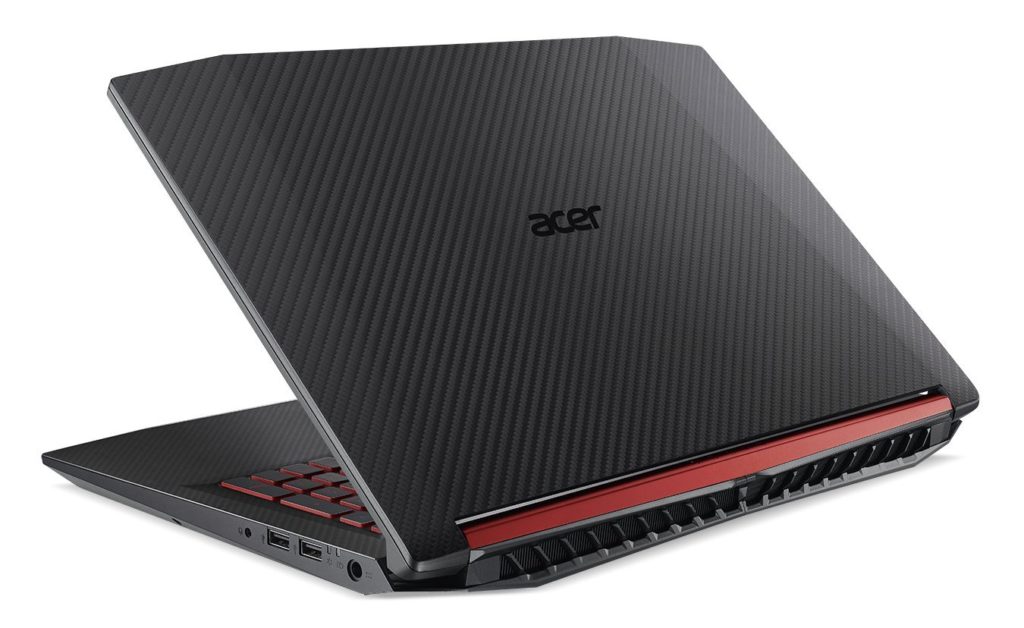 Acer Nitro 5 gaming laptop has NVIDIA GeForce GTX 1050 Ti 4GB graphics processor and full HD LED display that is backlit and has anti-glare settings. Along with everything, it delivers decent SSD speed and has a nice design with great contrast ratio and viewing angles.
Pros:
Offers excellent performance
It has a good price-performance ratio.
It has an excellent build.
Outstanding battery.
Excellent cooling.
Cons:
But, it turns hot at full load.
Also, it has a poor color range and mediocre connectivity.
3. ASUS F570 FHD Gaming Laptop with 4GB NVIDIA GeForce GTX 1050 Graphics
Priced under Rs 50,000, Asus F570 has touched all the right nerves, almost. If you need a budget gaming laptop, this is the perfect fit for you. It is not just one of the most affordable gaming laptops but also is a rather unique one.
Most importantly, for an all-plastic construction, it doesn't feel flimsy or delicate. Also, its keyboard is one of the best from Asus. Asus F570 has AMD Ryzen 5 processor that stays cool. Along with that, it has a 4GB od video RAM and a dedicated 4GB NVIDIA GeForce GTX 1050 GPU.
Pros:
One of the best Asus' butter-soft keyboard.
Decent performance in gaming.
Its all-plastic components feel strong and sturdy.
The top cover can stand minor bumps and scratches.
Neat and attractive design.
Cons:
However, its performance impaired by slow HDD.
Also, it has a colorless display.
4. ASUS TUF FX505GD-BQ136T Gaming Laptop with 4GB NVIDIA GeForce GTX 1050TI Graphics
Asus TUF FX505GD gaming laptop is priced under Rs. 50,000 and it is one of the best-suited laptops for budget gamers. Above all, it has a good price-performance ratio with a dedicated processor for graphics and high RAM capacity. ASUS TUF FX505GD has an Intel Core i5 processor that offers a clocking speed of 2.3GHz. Its dedicated unit supports 4GB NVIDIA GeForce GTX 1050TI graphics.
It also has an anti-glare backlit display and maximum resolution for full HD display. To keep it all going, it comes with a 3-cell Li-Po battery.
Pros:
Anti-glare backlit display.
Affordable gaming laptop
Top performance.
Full HD display.
Internal storage is high.
Cons:
But it is heavy to carry.
Also, it has a bulky design.
5. HP 14 Core i5 8th Gen Gaming Laptop with Dedicated Graphics Slot
Now, this one doesn't have a dedicated 4GB dedicated graphic card but we are making an exception for HP 14 gaming laptop which is powered by core i5 8th gen processor with 3.9 GHz with Intel Turbo Boost Technology, 6 MB cache and 4 cores.
Also, HP 14 Core i5 8th Gen gaming laptop comes with 8GB DDR4 RAM and 1TB HDD storage. It has an Intel UHD 620 graphics card that manages all its graphical functions. But there are 2 slots memory slots available in this laptop where you can install a 4GB graphics card and SSD to play games smoothly.
You may also like: 5 HP Laptops with Core i5 8th Generation 8GB RAM 2GB Graphics Card
Additionally, it has a thin and light design and weighs only 1.5 kgs approximately. To power its functioning it is loaded with 3 cell Li-Ion battery that lasts for 7 hours.
Pros:
Brilliant performance from processor.
A delight for audio and visual.
Great storage capacity.
Thin and light design.
Long battery life
Cons:
You can't run the high graphics games.
Misses thermal velocity boost of Core i7.
Wrapping It Up
Gaming laptops should be able to handle the demanding pressure. Most gaming laptops are extremely heavy on pockets. They heat up and their batteries die pretty quickly.
Also Read: Best Gaming Laptops Under Rs. 80,000 in India 2020
These gaming laptops under Rs 50,000 mentioned above tick the most right boxes. These are not just affordable but also good in the range. So now, you don't have to compromise or spend a fortune on your love of gaming.