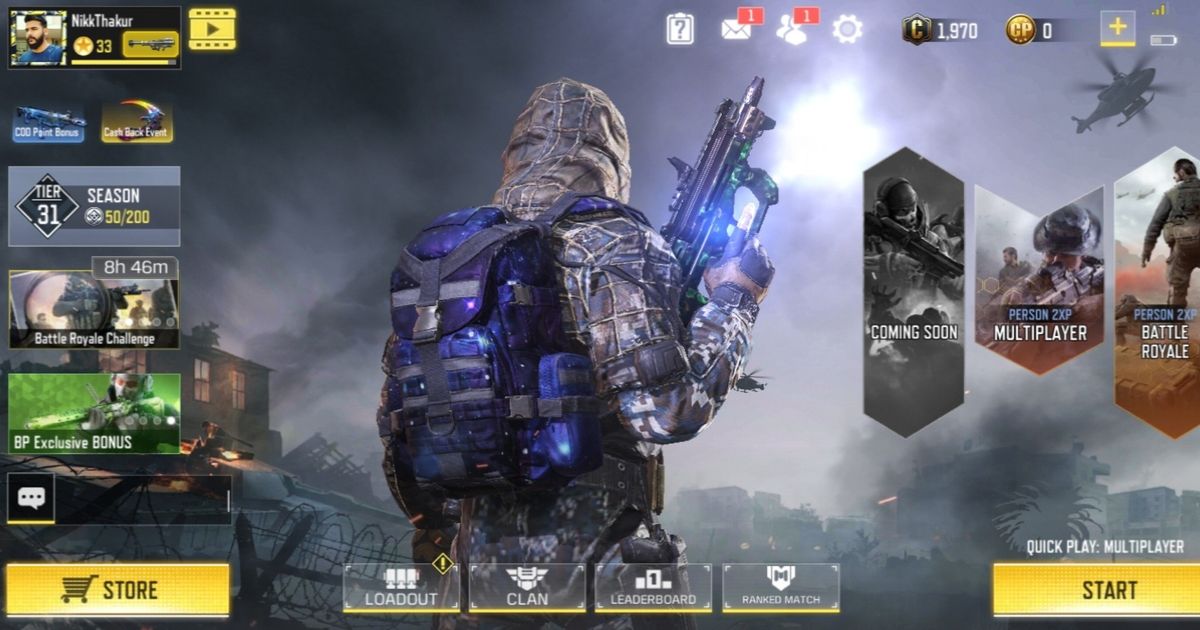 Last Updated on August 28, 2022 by Ram Thakur
With the launch of Call of Duty mobile, its inevitable comparison with PUBG mobile came almost instantly. And, to put it bluntly, Call of Duty mobile certainly feels better, be it the sheer variety of game modes, the element of realism, or even the diversity of combat experience.
PUBG mobile made battle royale popular but Call of Duty mobile has taken it to another level altogether. The sheer difference between both is evident from the start and since Tencent Games is the parent of both of them, the striking difference between the two comes as a surprise. 
Highlights on Call of Duty Mobile
Call of Duty is a class apart from games like Black Ops 4 and PUBG mobile. It offers a far better and much more realistic experience.

It comes with six combat modes, two control modes, and five battle royale classes.

You get to have weapons that are more lethal and tactical than in any other combat gameplay.
Call of Duty Mobile Gaming 
Activision and Tencent have fabulously brought out the gaming experience to mobile. It will make you feel at home. Call of Duty comes with six modes- Battle Royale unlocks at level 5, then there is Free-for-all, Team Deathmatch, Domination, Frontline, and Hardpoint. 
1. Battle Modes 
Team Deathmatch and Frontline are the regular kill count modes. Here, the winner is the team that reaches the kill target first. Domination tests team efforts and coordination skills. And then comes the elephant in the room, Battle Royale. This battle royale mode of Call of Duty is way ahead in experience as compared to PUBG mobile.
How can we talk about battles and combats and not talk about vehicles, terrains, and maps? Call of Duty offers more scene-appropriate vehicles and realistic terrains as compared to PUBG mobile's blotchy grass or ice sheet. Also, gun damages are logical and forgiving at the same time. On the other hand, if you try to kill an enemy with a sniper gun at close quarters,  it can get a little frustrating.
2. Control Modes
Call of Duty comes with two control modes. Beginners can go for the Simple mode while if you are the one who wants more control over your movement and trigger response, Advanced mode is for you. You can customize the button layout as per your liking. 
In PUBG mobile, you can see the enemy footsteps on the map and get ready for the kill. You don't get this feature in Call of Duty mobile and this adds to the unpredictability and excitement of the combat.
The map aesthetics and combat settings outstandingly depict any setting where a special ops unit is likely to be deployed like a nuked land, an abandoned yacht, a nuked land, etc. Call of Duty offers a much smoother gameplay experience as compared to PUBG mobile, Modern Combat 5, etc with targeting experience and the lag-free movement. 
3. Battle Royale 
Call of Duty's battle royale is different from  Black Ops 4's Blackout battle royale mode. The battle royale map in Call of Duty Mobile is different from the ones used in Blackout on consoles and PC. You will also get to choose whether you want to play in the first or third-person view. And you will be matched up with the players playing with the same perspective. Also, Call of Duty Mobile's battle royale mode comes with five classes that you can choose from.
The defender carries a shield that can protect the players against the bullets. Along with that, it will also raise the damage resistance to all incoming fire.
The mechanic will be able to call in a drone that disrupts nearby electricals for enemies and they also have a unique ability to see traps, vehicles, and other equipment. 
A scout can see all enemies in the nearby vicinity with the help of sensor darts. Also, they can see the fresh footprints of enemy players.
The clown can throw a bomb to make zombies rise from the ground. These zombies can eliminate all nearby enemy players. 
The power of a medic is that he can put down a health station that will constantly heal them and people around for some time. Also, they can heal and revive players quicker than others.
These five classes in the Call of Duty's battle royale mode make the game even more thrilling and loaded with Adrenaline. 
Newly Released Call of Duty Mobile Has A Lot More to Offer
Call of Duty offers a lot more than just a plain shoot-em-up approach. You can aerially scout the enemies, annihilate foes by deploying a cluster bomb payload or call a drone strike. You can deal with the damage in whichever fashion you want. And you can do that by simply killing multiple enemies in a row or completing an objective and earning scorestreaks. 
You can gear up for the battle at the Loadout. Along with that, you get to have lethal weapons like a grenade for taking out a bunch of enemies at once. And if you want more violence and bloodshed, you can use the flamethrower gun to torch many unfortunate souls at once. The variety of weapons you get in the Call of Duty mobile and the augmentation options are impressive. You get lethal and tactical equipment like melee weapons launchers. And if you yearn for options of customization, you will have plenty of that as well.
Call of Duty Mobile Drawbacks
Every good thing often comes with certain frustrating issues, Call of Duty is no exception. You might sometime experience log-in issues every now and then and sometimes you might abruptly exit the match. Also, if you are someone who is looking for a simple shoot-to-win experience, the loaded Loadout, sheer variety of gameplay modes and options of customizations can leave you overwhelmed. But past these issues, Call of Duty mobile is a lot of fun. 
Call of Duty Mobile: When, Where And How Much
Call of Duty was launched on October 1st, 2019, and is available both Android and iOS. And it is entirely free-to-play. Activision won't charge an upfront price for downloading it on either Android or iOS. But we are yet to see how the publisher will make up for this with microtransactions. 
Final Thoughts
Activision has done an outstanding job of bringing the Call of Duty experience to mobile platforms and it is one of the best PC-to-mobile iterations in the market. It expands the horizon of combat gameplay and is a gift to the players who are in love with games like PUBG.