Last Updated on August 28, 2022 by Ram Thakur
Are you thinking about starting a new blog or website?
Want to earn money through affiliate marketing?
Want to create a website for your small business, school, college, coaching center, hotel or rental services?
Are you looking for the best and cheap web hosting provider in India to start with?
If so, look no further!
I have created Hostinger India Review to help you get the low-cost web hosting plan for 4 years only @ Rs 5,413.
Hostinger Web Hosting only @ Rs 5,413 for 4 Years Includes 1 FREE Domain (1st Year), 1 FREE SSL Certificate (Lifetime), Cloudflare DDoS Protection (Lifetime), Unlimited Websites Hosting, Unlimited Domain Emails, Discount Coupon and more
What will you get when you buy the "Premium Web Hosting" plan from Hostinger India by clicking the banner below.
Unlimited° Number of Websites
20 GB SSD Disk Space
Unlimited Bandwidth
Powerful Control Panel
User-Friendly Access Manager
2X WordPress Optimized Speed
1-Click Installer (WordPress, Joomla, PrestaShop, OpenCart, phpBB etc)
Free Domain Name (with annual plan)
Unlimited Domain Email Accounts
100 Subdomains per Account
99.9% Uptime Guarantee
Weekly Backups
Cloud Linux, Curl and Curl SSL, Hotlink Protection, DNS management, Unlimited FTP Accounts, 24/7/365 Support and more
On the Hostinger's website, when you add WordPress Premium Web Hosting plan (including Cloudflare protection and a free domain, you see ₹ 7,124.00 in the total order summary. So, now the question is how did I get the Hostinger WordPress Premium Web Hosting at ₹ 5,412.20 for 4 years (48 months) along with a FREE lifetime SSL certificate and a FREE domain for 12 months and a Cloudflare DDoS protection for Lifetime?
This review will help you get these benefits while purchasing the best web hosting plan from Hostinger India
1. First of all, click the banner below to visit the WordPress Premium Web Hosting offers page.
2. Scroll down till you see the footer area of the Hostinger website, where you will see WordPress Hosting under the "HOSTING" column. Click on it.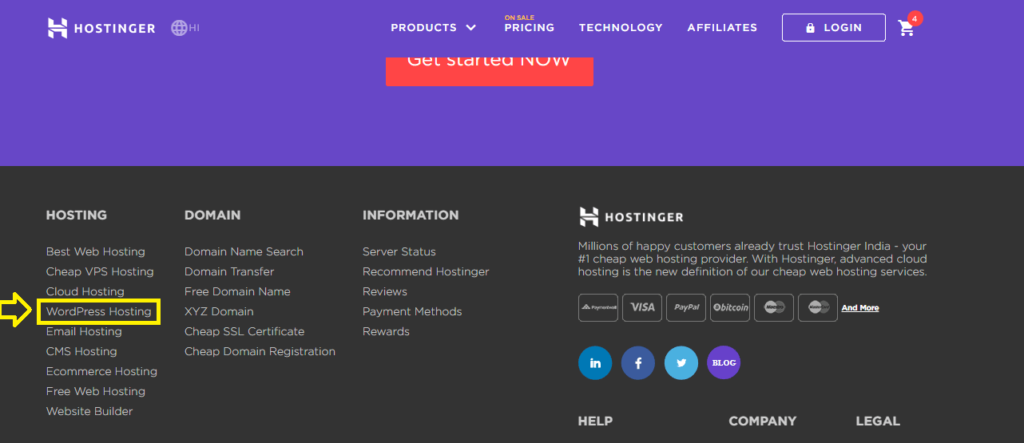 3. Next, you will land on WordPress hosting plans page, scroll down slowly and you will see 3 cheap web hosting plans listed under "Choose Your Web Hosting Plan".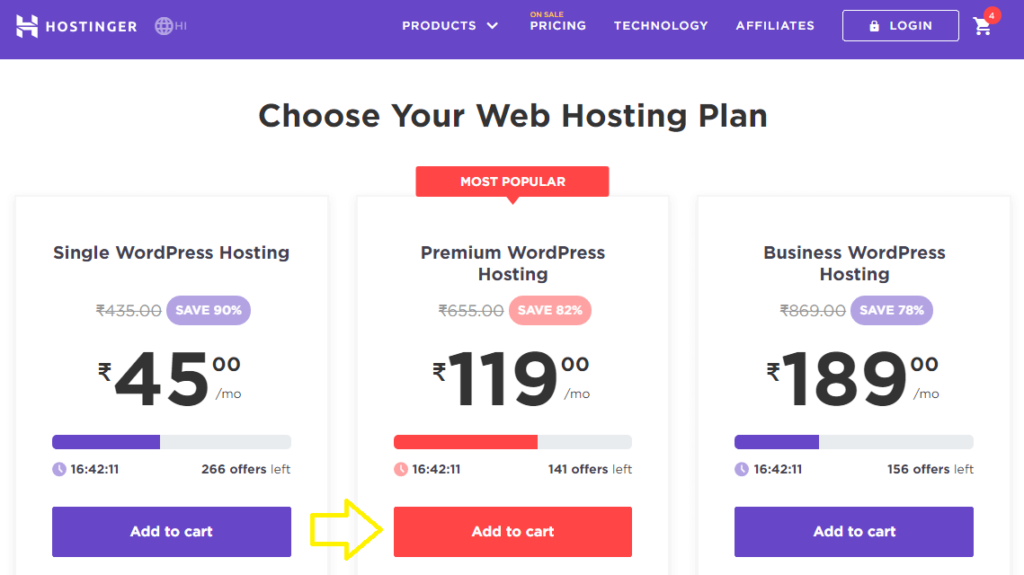 4. From the "MOST POPULAR" plan, add the Premium WordPress Hosting to your cart by clicking on the "Add to cart" button.
5. Next, you will see your cart value is ₹ 4,855.20. Now you need to pay your best ATTENTION here, lifetime SSL is not always FREE, it's a special offer that Hostinger ANNOUNCES several times every week/month. So you need to keep a close eye on it. Otherwise, you will have to pay ₹ 855.00 additionally for a lifetime SSL certificate.
6. It's best to click on Login and then click on Google icon to signup using your Gmail account and leave your cart with the Premium WordPress hosting plan added in it and wait for Hostinger to announce the offer. You should keep checking their website every day.
7. When Hostinger clearly mentions that they are offering a Lifetime FREE SSL+ a FREE domain (for 1st year) with their Hosting plan, you need to open your cart and select (check mark) both SSL and Cloudflare protection box as displayed in the image below.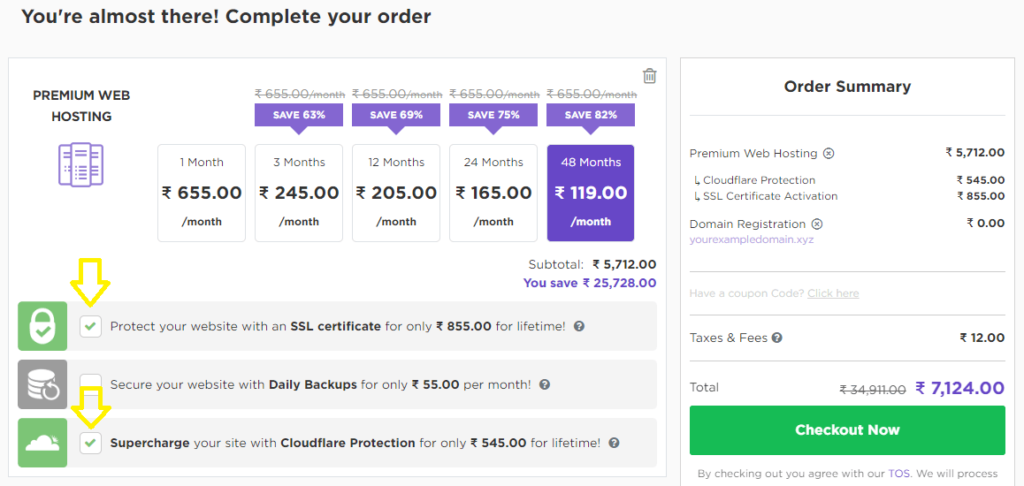 8. Here's the most IMPORTANT trick that helps you save ₹ 856.80. And you get the WordPress Premium Hosting worth ₹ 6,269 only at ₹ 5,413. So, make sure you check your cart carefully and find the option "Have a Coupon Code? Click here" and click on it and enter the coupon SPECIAL15 to get a huge discount.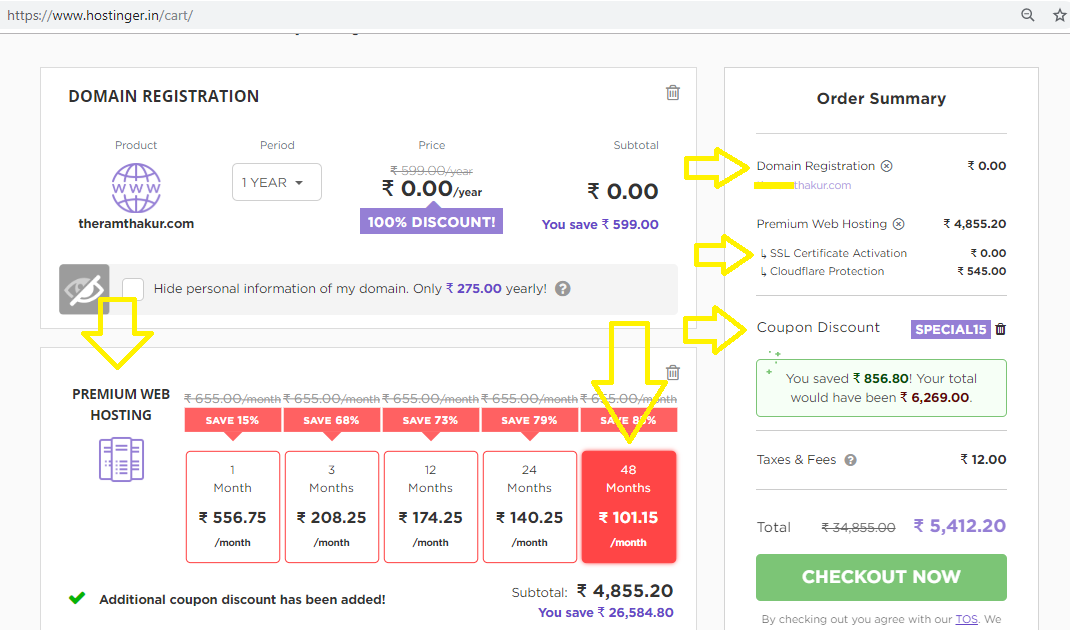 Why Choose Hostinger India
Small or Large – They have customized affordable plans for everyone.
Provides the best hosting solutions optimized for the best WordPress performance
It provides highly advanced and easy-to-use CPanel for all. No technical knowledge needed for managing or developing a website
Never lets you work alone. Their friendly support team is available 24/7 and replies within 1-3 minutes. You can chat with their team as you want. You can share emojis, GIFs and can talk like a friend. They are simply awesome!
Ready to buy the affordable web hosting plan? Click here.