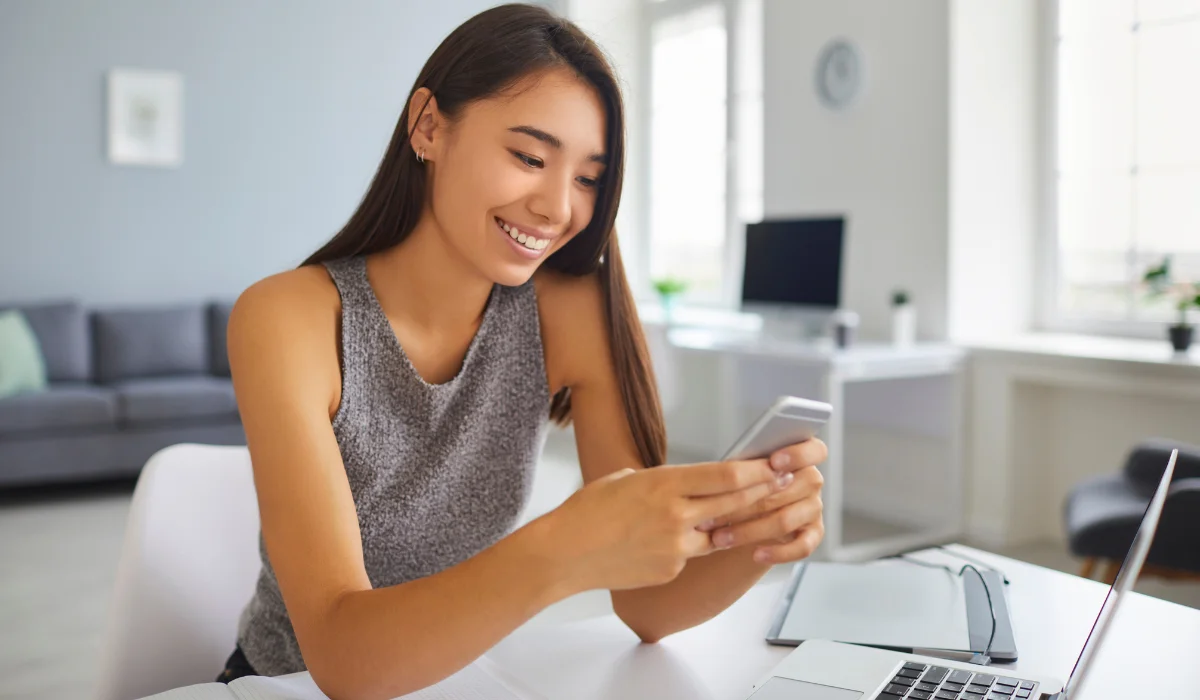 Last Updated on May 19, 2023 by EarthTechy Staff
No matter what smartphone you carry, a universally accepted fact is that – you do a lot of messaging. Your clients, friends, cousins, and colleagues must be sending you tons of messages each day. These messages sometimes include heavy images and large videos that clutter your phone's storage.
If this happens to you frequently, you must explore the most efficient ways to manage text messages on your smartphone. Here we will enlist some useful tips on handling messages so that they won't eat up the storage or make your phone slower in the long run. Whether you are using Android or iPhone, this guide has something for you.
Let's first understand the ways to manage conversations in the iMessage app on iPhone and then move on to Android.
How to Organize iMessage on iPhone
iMessage is a versatile app that gives you access to many dynamic features, such as pinned conversations and customizing the way the app works. With the release of iOS 16, users can even edit and unsend text messages. Let's learn potential ways to manage messages on the iPhone.
1. Customize iMessage Settings
Spend some time reviewing the various options that iMessage brings along and personalize how you want the app to work. Tailor the text sending and receiving settings so that the iPhone won't sync all your messages with all your Apple devices.
To ensure this, use only the phone number in the Send & Receive section and avoid providing your email address.
Be careful when changing the default settings, as you may end up deleting important messages. In case that happens, a guide on how to retrieve text messages from trash will help you to restore all your conversations securely on the device. Luckily, you can use the Finder app, iTunes, or iCloud to retrieve deleted messages on your iPhone.
2. Hide Alerts or Pin Conversations
Sometimes, you are required to mute conversations, particularly when you are in a meeting or holidaying with your friends. Swiping left on the iPhone and selecting the Hide Alerts options will allow you to mute individual conversations. This feature is useful as it helps you to skip the conversation when you are busy.
Apart from muting conversations, you can pin a text conversation on the top of the list. To do this, long-press a conversation and tap Pin. Once you do that, the pinned conversation will move to the top of the messages. The feature helps you to quickly view and respond to important messages.
3. Enable & Disable Read Receipts
The read receipts are one of the significant features that you will find useful. One thing that makes it even more applicable is the ability to enable read receipts for important contacts while disabling it for everyone else. It's useful when you receive a message from a friend but don't feel like responding to it the very next moment.
Turn on the read receipt feature for a particular contact by opening the messages thread and then tapping on the contact's image displayed on the top of the iPhone screen. Now, select Info and turn on the Send Read Receipts option. Repeat the same procedure to turn off read receipts for a selected contact.
How to Organize Your Messages on Android
Diving through dozens of text messages to find something you're looking for is quite time-consuming. Android gives you access to multiple organizational features that help you manage your messages effectively.
1. Create Text Categories Based on Keywords
If you too spend a lot of time scrolling messages to find a specific one, how about sorting the text messages into labels and categories? If you are new to categories and labels in Android, here's what you need to know. Creating conversation categories will make it easy to locate any message quickly without Scrolling through the entire list.
For example, you can create a conversation category using common keywords such as 'payments', 'transactions', or 'alerts'. Now, when you are looking to view a text message related to a recent transaction, you can simply open the 'Transactions' category to access the message. You can even add or remove any message from a particular category.
2. Pin Important Messages
Similar to the iMessage app on the iPhone Pro Max or other models, it is possible to pin conversations on the top in Android. Pinning the messages is one of the efficient ways to manage text messages and locate them easily. It moves the conversation to the very top so that you can refer to any important message quickly without scrolling the list.
To move an individual contact to the top, tap and hold the thread, select More (displayed as a three-dot icon), and then select the Pin to top option. This feature saves the time that you spend swaying through the list of messages to view conversations with a particular contact. Now, you can pin conversations and keep the most important messages on the top.
3. Manage Your Conversation Contacts
Have you ever experienced a situation when you are unable to find an important message? Do you feel that your important messages are lost in the sauce? Well, that's usually common with the majority of users. And if that happens to you, all you need is to organize your messages so that you can easily and quickly find the message you are looking for.
Samsung Messages will allow you to choose and manage how you want to see your conversations. You can organize the conversations either by sorting them in a chronological manner or by categorizing them. Now pick a conversation, access your message quickly, and enjoy a seamless messaging experience.
Bonus Tip: Backup Your Conversation Regularly
Regardless of the smartphone you are using, backup is crucial to retrieve and restore access to deleted data.
iPhone users can rely upon iCloud whereas Android users can backup Android data to Google Drive to access and restore them to the device. Having a backup will allow you to claim space on the internal storage.
The Conclusion
Avoiding the need to manage conversations on your smartphone would result in piling up messages. This is going to turn down the device's performance and efficiency. In addition, you tend to miss out on important text messages. So, manage your conversations regularly on your smartphone with these easy tips.