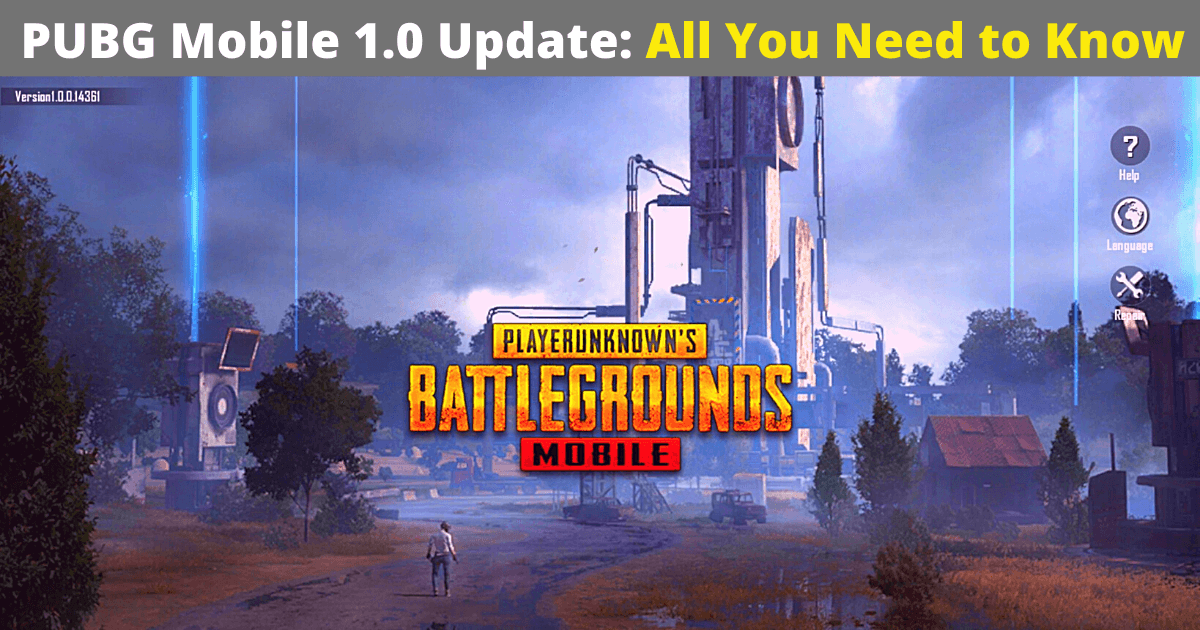 Last Updated on August 28, 2022 by Ram Thakur
Let us all acknowledge the popularity of online MOBA games, especially during the COVID Pandemic Lockdown worldwide. With people locked up, working from home, and engaged in household chores, the number of entertainment and recreational options had grown vastly limited. The rise of online multiplayer games such as PUBG was seen in every home throughout the globe. The last six months gave an impressive hike in the number of PUBG followers. However, the sudden PUBG ban in India along with several other South Asian countries led to a mass disappointment among the gaming community. No matter what, gamers worldwide have been looking forward to the Mobile version release as announced by the PUBG team on the 23rd of August, 2020.
You will be glad to know about the PUBG Mobile New Update in 2020.
In this article, we will bring to you the detailed features and improvements brought along with the PUBG new update. We will enlist the key highlights and see what all is there to look forward to. Let us explore.
PUBG History
The Player Unknown's Battlegrounds a.k.a PUBG was initially released in Feb 2018 by the Tencent Games and VNG Game Publishing developed by PUBG Corporation. The game was basically another multiplayer online battle royale game involving strategizing, team-building, and shooting the opponent army. The app was compatible with both Android as well as iOS, thus available on Google Play Store and Apple App Store. Following massive popularity among the gamers as well as newcomers, the game delivered an intense experience to all of them. With the unfortunate ban, however, fans were eagerly waiting for the new version, PUBG v1.0.
PUBG Mobile 1.0 New Era Update
The PUBG Mobile New Update has taken its fans with its promising features, intense interface, and lots of refreshing improvements. With more than 4.2 ratings on the Google Play Store and billions of downloads, the version has quite a future.
The PUBG Mobile new update requires around 1.80 GB in Android devices and 2.17 GB on iOS devices. However, post ban, it is no longer available on the Play Store or App Store in India. Here's how you can download PUBG Mobile OBB File: New Era global version 1.0 APK
Let us learn more about the update.
See Also: Best Sensitivity for PUBG Mobile
Here's a list of what's new in PUBG Mobile 1.0 New ERA:
1. Erangel 2.0
The much-awaited map of Erangel is finally out. The tour of Erangel 2.0 shows you the Quarry Prison area, the Warehouse as well as the Mylta Power. Aesthetics have been improvised on locations of Sosnovka Military Base, Mine Zone, Tree-Trunk Barriers, new Bunkers, the Mansion, etc. With additional access to forgotten trenches, abandoned barricades, and wooden tanks, players now get easy access to the loot.
2. New UX/UI
The main lobby now has three separate spaces. One to allow players to combat, one to socialize, and another for shopping. Another exclusive feature is its innovative, multi-screen switching mode enabling players to switch from one space to another, quickly and efficiently. Other revisions include betterment in animation improvement both in combat as well as classic combat, Arena updates, Combat improvements, immersive lobby & in-game environment, characters, gunfights, appealing lobby lighting, etc.
3. Guns
A whole new collection of weapons is added in the new update. The new semi-automatic shotgun, M1014 is available on the Livik and Arena. In addition to that, there is an upgrade in the fast rate of firing from the Tommy Gun, now equipped with Holographic as well as Red Dot sights. Also, the UMP45 now has higher damage, firing rate, and bullet speed.
4. Anti-Cheat Fixes
The developers have been working on taking strict action against cheaters. The update thus includes stringent penalties. Also, 20 different auto-aim ways are now countered with the new PUBG Mobile update.
5. Updated Cheer Park
With the all-new Cheer Park and added contests, players can now train their skills with their weapon. Additionally, a two-seater swing set, romantic boats, and upgraded training ground are interesting additions.
6. Livik Improvements
The latest map of PUBG Mobile 1.0.0 has several noteworthy improvements in it, including both gameplay as well as stunning visuals. New Weapon, M1014, a semi-automatic shotgun has been introduced. Exclusive to Livik and Arena mode, players can now manually load their ammo. Furthermore, they get seven rounds to load their weapons. In terms of visuals, vegetation such as the texture of terrain, water, smoke, and waterfalls have been added for a better experience during gameplay.
7. Beyond ACE themed Gameplay
Beyond A.C.E- Season 15 themed Royale Pass mechanics are another amazing additions to this update. Players can now redeem their supplies upon meeting unfortunate combat conditions from the new Energy Towers addition. The mode will start directly in Erangel. The themed play will be released in PUBG Mobile on the 14th of September.
8. Payload Mode (v2.0)
The mode gameplay is making its way back. The EvoGround additions will constitute armed helicopters, heavy weaponry viz.M202 4-barreled Rocket launcher, and AT4 Laser-guided missile; Advanced Communication Towers to call upon dead teammates, armed Buggy, UAZ, Dacia, and Pickup, and many more.
9. Graphic Quality Upgrades
There are better lighting and graphic quality. Character motion, advanced animations, improved interactions, and sound quality are some of the remarkable changes. Other attributes include improvement in terrain and building structures where players can now easily switch places with ease in blending. Players can now enjoy the features of parachuting, sprinting, and throwing. Shell Ejection animations have been added while firing, blast effect or stronger firing feedback. Also, phones with a 90Hz screen refresh rate such as OnePlus can enjoy immersively playing at a higher frame rate.
10. Halloween Infection Mode
Another mode of gameplay addition, the Halloween Infection Mode is a classic with zombies wearing Halloween masks. The mode is expected to be delivered on the 23rd of October.
11. Updated Urban Areas
The graphics are more realistic. That along with the new ocean view with its ever-changing gradual depth effect gives an immersive experience to the PUBG players. Impressive improvement is shown in its color quality as well as the layering between vegetation and the sky view. A new color palette of dawn cyan, victory yellow, smoke grey, and hope white tones have been added.
Conclusion
Recently India and a few other countries, owing to the COVID pandemic, banned 119 Chinese apps which included both PUBG and PUBG lite apps. However, with the recent release of the PUBG Mobile 1.0 Update, the PUBG team is looking forward to bring the gaming community back in its form. The app has got a huge number of improvements and already has more than 200 million users across the globe. The app is available either on the Play Store/ App Store or else can be downloaded from the APK Downloader on the Google Server. The article covered the 1.0.0 Mobile version, what all is new in PUBG Mobile Update, its key highlights, and the great sweeping upgrades in the updated mobile application. True to its name the latest mobile version will take PUBG Mobile to a new era of the gaming world. Game on!
FAQs
What is the latest update for PUBG Mobile New Update?
Season 15 Royale Pass gameplay mechanics have come up with the new season beginning on the 14th of September. The PUBG v1.0 comes with new features.
What is the update size of PUBG Mobile 1.0?
The PUBG Mobile new update in 2020 requires 1.8 GB in Android and roughly 2.17 GB in iOS platforms.
What's new in the PUBG Mobile update?
Lots of new features have been added in the latest update of PUBG Mobile including the Erangel 2.0 map, modes, guns, Visual, and Gameplay changes along with fascinating EvoGround additions.
---