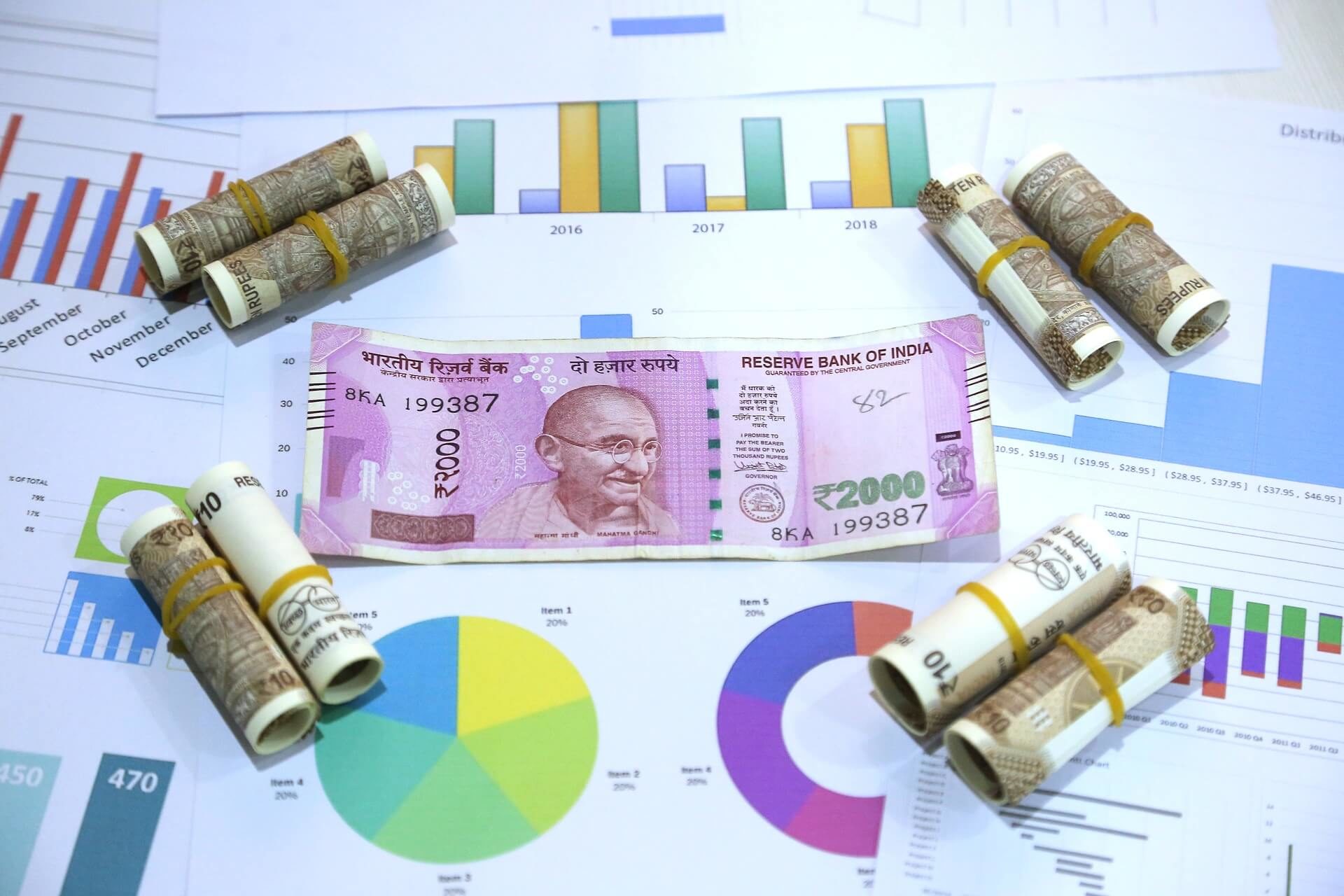 Last Updated on August 28, 2022 by Ram Thakur
If you have a website, YouTube channel or app, you can make money online by joining some of the best Indian affiliate programs and networks. In fact, affiliate marketing is one of the most popular sources to make money online.
The best affiliate programs and networks like Amazon, BigRock, GoDaddy and Hostinger are offering 4% to 60% commission to affiliates in India. In this industry, there's no limitation, you can earn as much as you want. Affiliate networks will reward you for all qualifying purchases people make through your affiliate link.
Here is a list of top 5 best affiliate programs in India that you should join in 2020:
1. Amazon Associates
On July 8, 2013, Amazon India launched its affiliate program – Amazon Associates for website owners, bloggers, and social media influencers. Amazon has over a million products that you can promote to your followers or website visitors. Amazon Associates dashboard houses tools like SiteStripe toolbar, Product Links, Banner, Product Advertising API, and Widgets (products carousel and slides) creators to ease and meet your advertising needs and help you monetize your website.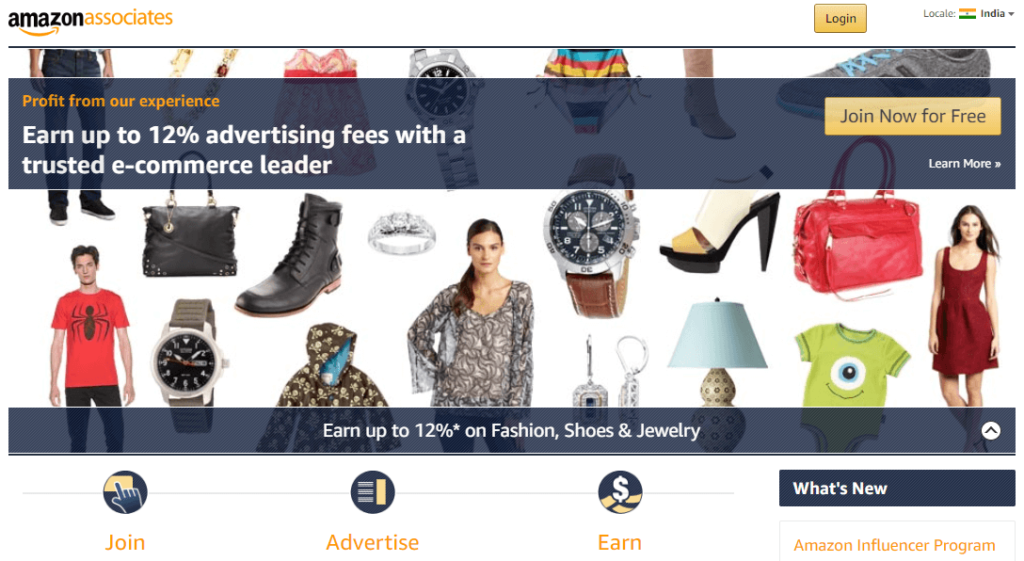 "The minimum cheque threshold of INR 2500 still applies to all Associates but many have requested higher thresholds," reports Amazon.
Here's the commission rate for Amazon Associates:
| | |
| --- | --- |
| Amazon Products | Affiliate Commission Rate % |
| Fashion, Shoes & Jewelry | 12%* |
| Home, Kitchen, Gourmet & Specialty Foods, Garden & Grocery | 10%* |
| Sports, Outdoors & Hobbies | 10%* |
| Health & Beauty | 10%* |
| Books and Magazines | 10%* |
| Kids, Baby & Toys | 10%* |
| Kindle Books | 10%* |
| Digital Entertainment | 6%* |
| Music & Movies | 6%* |
| Electronics, Wireless & Computers | 4%* |
*See advertising rates on Amazon.
Advantages of Amazon Associate affiliate program:
You can start promoting Amazon products on your website just right after a successful signup.
Amazon provides a wide category of products so that its affiliate program is the best option for all bloggers, website owners, and social media influencers.
Gives you a commission on all qualifying purchases that also includes the products that you're not promoting. It means if someone visits Amazon through your affiliate link and purchase anything from the site, you get your affiliate commission.
Provides you with 24/7 support, automated tools and advertising materials (ready-to-use code for banners, sidebar images, search box, etc.). You can also customize their size and color to match your website theme color.
Disadvantages of Amazon Associate affiliate program:
In the Amazon Associates dashboard, some of its tools that are listed under the "Widgets" menu are not working properly.
For example, I was trying to create a widget "My Favourites" by adding dozens of products in a widget and it's not showing the preview and even after adding the JavaScript code to the website sidebar using custom HTML, was not showing any products preview (ads)
Amazon Associates tracking system is highly advanced which tracks your conversion details and determines whether the conversion is a qualifying purchase or not. So, if your friends or family members make purchases on Amazon using your affiliate link, you may not get a commission for it.
Amazon Associates Joining Fee: Free

Domain Authority: 92

Page Authority: 69

Domain Age: 14 Years (Registered in 2005)
2. vCommission Affiliate
vCommission has become a leading affiliate network in India. It's best known for performance-based marketing, affiliate marketing, e-Commerce marketing, lead generation, and app installation. It has been a decade since they are delivering performance on both web and mobile to the top companies and brands in India alongside the support of a growing network of 18,000+ publishers.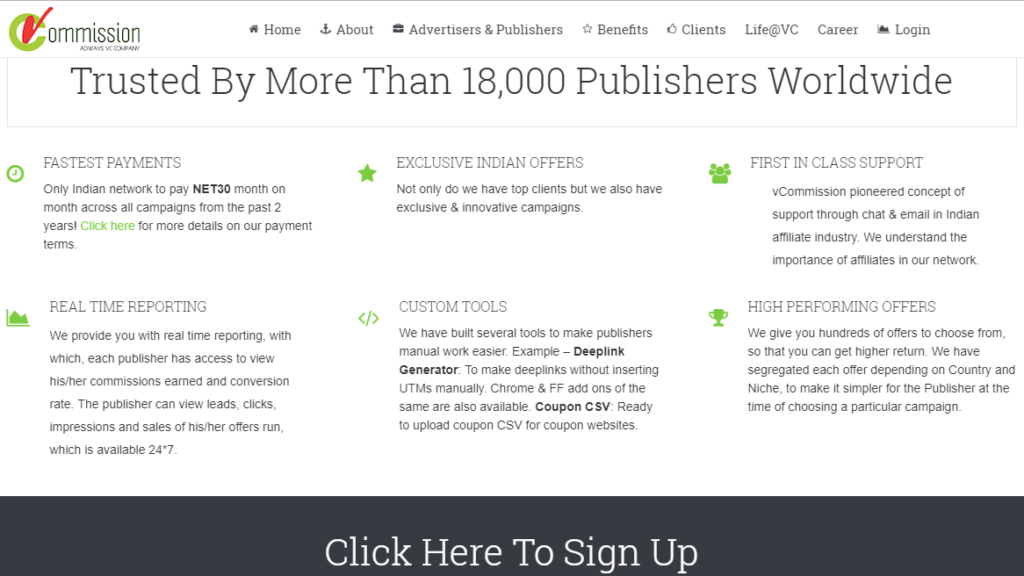 "vCommission works on a default threshold of Rs.1,000 in approved commissions. All Indian publishers are paid via NEFT/RTGS (Bank Transfer) only," reports vCommission.
Pros of the vCommission Affiliate program:
Have exclusive and innovative campaigns for the top brands
Provides 27×7 support and real-time reports
Have tools like Deeplink Generator and Coupon CSV (Chrome and Firefox add-ons are also available) to make affiliates' work easier in making deeplinks and uploading coupons.
Attractive commissions on qualifying leads
Cons of the vCommission Affiliate program:
vCommission takes around 3 months to validate qualifying leads and make payments. For example, all of your works done in January will be validated by March 20 and you will receive payment at the end of March.
Note: I have applied for the vCommission affiliate program and soon I will add more information here.
vCommission Joining Fee: Free

Domain Authority: 50

Page Authority: 53

Domain Age: 12 Years (Registered in 2007)
3. Hostinger Affiliate
Established in 2004, Hostinger International, Ltd. is an employee-owned web hosting provider and the internet domain registrar. It has now become India's leading best and cheap web hosting provider. Hostinger is one of the most popular web hosting providers in India. So, it's a great opportunity to join their affiliate program and make money online through your website or social platforms. Commission payout is paid between 8th to 12th of every month.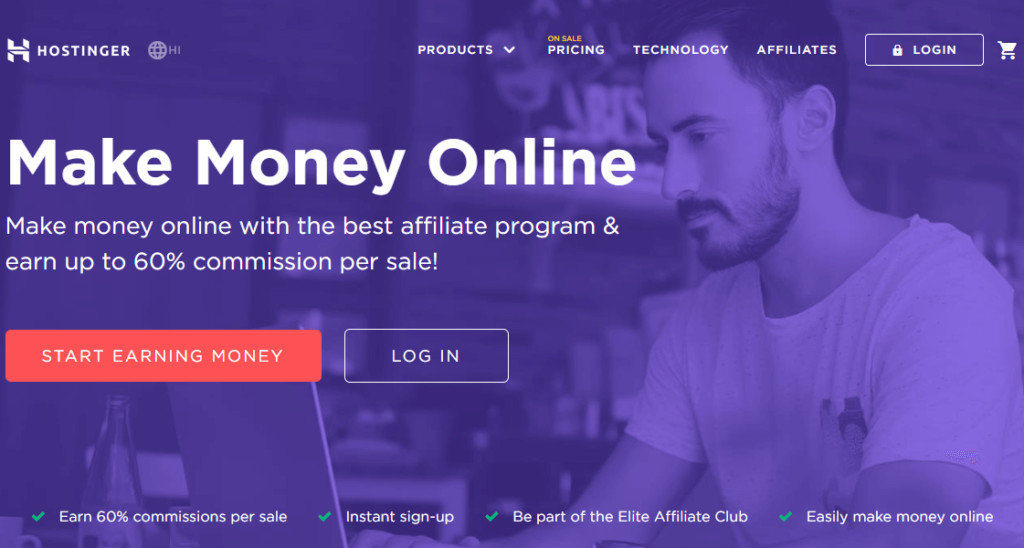 "Minimum payout is $100. You can cash out commissions that went through the 30-day trial period. Make sure your PayPal details are available on your affiliate dashboard," says Hostinger.
Benefits of the Hostinger Affiliate program:
Hostinger offers up to 60% commission on qualifying leads which is great.
Gives an affiliate link that you can add on any image or text that describes their product.
Provides 27×7 customer support and easy-to-use affiliate dashboard.
Gives personalized banners, infographics, pictorials and images that would attract your visitors/followers attention and help meet your marketing needs
Downsides of the Hostinger Affiliate program:
It only provides the affiliate commission on web hosting sales. If someone visits the Hostinger website through your affiliate link and buys a domain then you won't get any affiliate commission.
It doesn't give color choices for affiliate banners and images. Also, it doesn't have any tools in their dashboard to create banners.
You may have to create promotional banners and images on your own if you don't want to use the affiliate materials given by Hostinger.
You can only cash out your commission if you have a PayPal account and qualifying leads that have completed a 30-days trial period.
Important tips: Make sure you click on "tier.." and replace your .com affiliate link with .in using their country based URL generator tool if you want to promote it among Indian customers. See the screenshots below.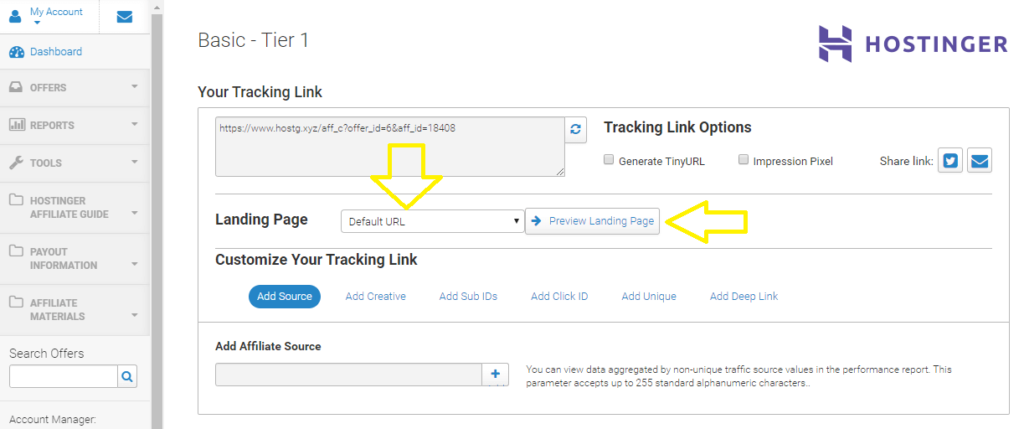 Hostinger Joining Fee: Free

Domain Authority: 40

Page Authority: 48

Domain Age: 8 Years (Registered in 2010)
4. BIGROCK Affiliate
BIGROCK is a trusted name and ICANN accredited leading provider of high-value internet domain registration, web hosting, digital certificate, dedicated server, business email, and website builder solutions to professionals, Individuals, and small businesses.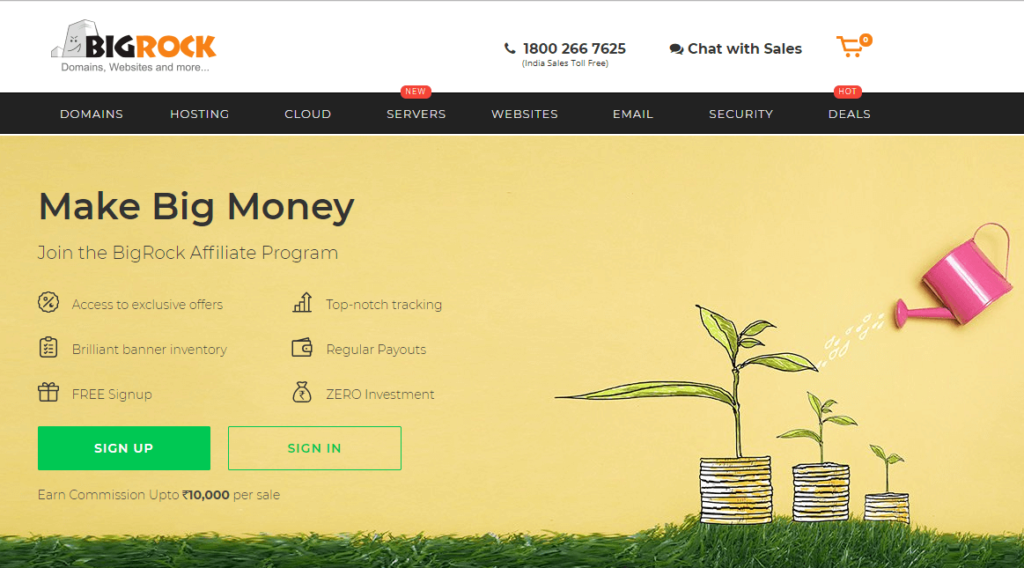 Unlike other affiliate programs in the industry, BIGROCK provides you the affiliate commission on all products from domain registration to the DIY website builder. If someone follows your affiliate link and buy any product/services from BIGROCK, you get a very high commission on every qualifying conversion. It's really great, isn't it?
You can send traffic to the BIGROCK website through your blogs and social profiles and they will take care of the rest. You will get an affiliate commission on each qualified conversions.
"Earn Commission Up to Rs.10,000 per sale," says BIGROCK.
Advantages of the BIGROCK Affiliate program:
Free Sign up and instant approval
Earn up to Rs.10,000 per sale and monthly payouts direct in your bank account
Provides you with all marketing collateral and ready-to-go dashboard
Quality services and products and exceptional support team
Disadvantages of the BIGROCK Affiliate program:
It provides affiliate banners for limited services and gives no color customization option. So, if you want to show affiliate banners or images matching to your website theme then you have to create them by yourself.
The minimum commission amount is Rs.3,200. Your total commission should meet the minimum requirement; otherwise, the transaction will not happen.
BIGROCK Joining Fee: Free

Domain Authority: 51

Page Authority: 45

Domain Age: 9 Years (Registered in 2009)
5. Admitad Affiliate Network
If you want to get your affiliate commission quickly within 7-10 days, join Admitad today! The German affiliate network was launched in India in 2005. They are offering CPA affiliate programs.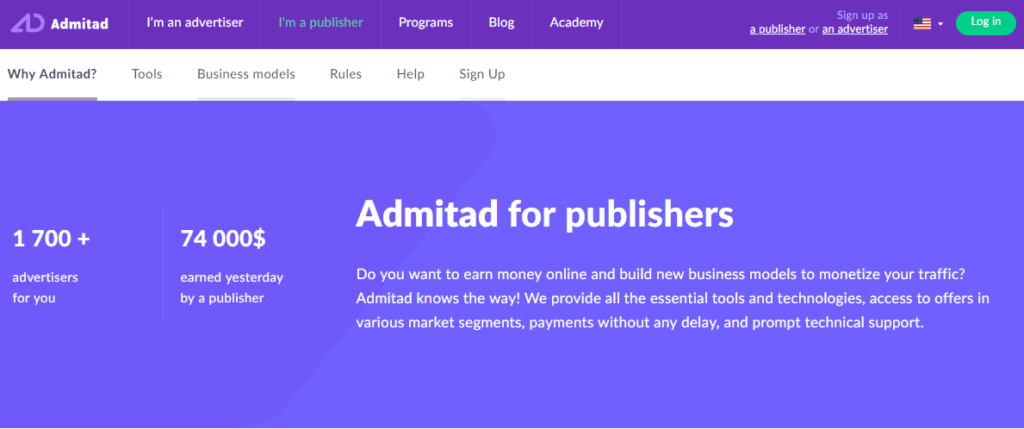 To ease the marketing, Admitad team has created its in-house platform and allows you to promote both national and international campaigns! Plus, their support team is highly responsive so that you can easily discuss your concerns with them and find a solution.
"Publishers are provided with advanced statistical tools and intuitive methods to withdraw earnings," reports Admitad.
Benefits of the Admitad Affiliate Network
Free sign up and easy verification
7-10 days payments via PayPal, Epayments, and Webmoney
Highly cooperative team and easy-to-use platform
Moneylink: You can use it to monetize your webpage
Chrome extension for deeplinks and coupons
Coupons and Promo Codes: Get the best deals from 1,700 + advertisers
Downsides of the Admitad Affiliate Network
Difficult to understand the use of its dashboard. So, it may take some time to explore all settings and options.
May not be useful for all bloggers or social media influencers.
Admitad Joining Fee: Free

Domain Authority: 91

Page Authority: 45

Domain Age: 9 Years (Registered in 2009)
Below are some popular affiliate programs that are not open for new entries now. You may not be able to join them.
Flipkart Affiliate – not accepting new affiliates application.
Paytm Affiliate – no option to signup for the affiliate program.
eBay Affiliate – has some issues with the affiliate platform. Tried to create a new account but it was showing an error.
MakeMyTrip Affiliate – no option to join their affiliate program.
How can you promote affiliate links and make money online?
Affiliate networks provide promotional banners, infographics, and images that you can display on your website header, sidebar or in articles along with the affiliate link.
You can put your affiliate links in your YouTube videos' descriptions and ask people to click it and make purchases. They will get the best product or service and you will get a commission for it – this way everybody wins
If you have an app with thousands active of users, you can make a good commission by featuring affiliate banners or popup images inside the app.
Moreover, you have to make sure that you're promoting quality products. So, you could gain people's trust. As we all know, trust is the most important thing in any business. And if people trust you, they will buy products through your affiliate link and for each qualifying conversion, you will get a commission from affiliate programs and networks.

I hope you all liked the article! Please share your comments. 🙂 🙂